The Vero Pro Sleeveless Tri Suit is a faster version of the pairing of their Vero Pro sleeveless jersey and shorts. The bottoms fit better and stay in place more easily thanks to the top holding them up, kind of like bib shorts, and the jersey stays aero more easily thanks to the shorts keeping the jersey tucked into place.
The Vero Pro line uses stretchier fabrics with less compression than you find in the FR-C Pro garments. This change makes them easier to get into and out of. 
The top mix features a three-quarter length zipper to make getting in and out a breeze. The zipper finishes its route at the neck inside a zipper garage to minimize the likelihood of chafing. The neck itself is generously scooped with no collar to lie flat whether running or riding, even when unzipped. The armholes are fairly large to make all three disciplines faster: no getting in the way of arm movement while swimming, no excess material to flap in the breeze while riding, and the minimal material reduces the likelihood of overheating on the run.
The front panels are made of a stretchy, smooth microfiber that wicks well. The back is made of three-dimensional, woven, directional-stretch textile that is great at evaporating sweat, something that is nice on the ride and super on the run and is strong enough to prevent over-stuffed pockets from sagging. Those pockets have side access and actually are underneath the back panel, keeping them super aero. The pockets, collar, and jersey waist hem are finished with Lycra piping for comfort.
The shorts are adapted from the Vero Pro Tri Shorts. The main textile deployed for these bottoms is Top Gear Lycra Power. It's a durable, abrasion-resistant, low-compression, high-stretch spandex that is finished with a Durable Water Repellant (DWR) treatment to minimize water-logging, whether that's sweating on a run, a steep climb, or even a swim. The DWR treatment also improves durability as it improves the garment's resistance to chlorine.
These bottoms are available in five colors: Anthracite, Black, Navy Blue, Royal Blue, and Red. The gripper bands can be sublimated.
The last step is choosing the chamois. Chamois choice is notoriously personal and Giordana honors the athlete's ability to find one that suits their needs. Giordana offers three pad options, each of differing thickness, to be sewn into the bottoms via Tri-Stitch sewing. This three-step zigzag method makes the chamois short for greater comfort and durability.
Tech Specs
Full zipper with garage at top.
Low neck for aerodynamics, comfort, and microclimate control.
The front panel is smooth and stretchy, UPF 30+.
The back panel, UPF 20+, features a three-dimensional weave for moisture transpiration.
The back panel was treated with Microfresh to minimize the impact and odors of sweat.
Two side-access pockets.
Lycra piping finishes the neck, front waist hem, and pockets.
Leg hems are 5cm wide and can be sublimated with color and design.
Legs, excluding the hems, are DWR-treated Top Gear Lycra Power, UPF 50+.
Leg colors are Anthracite, Black, Navy Blue, Royal Blue, and Red.
Three chamois choices, all with a top layer of aloe vera-infused Cirro fabric.
Timeline

This garment is available in our 8-week program.
Minimums (MOQs)

Giordana has no required minimum quantities to place an order. Our published MOQs are thresholds to get optimum pricing. This garment with regular options has a MOQ of 5 pieces per design, per garment.
Sizes

Women's Sizes Available: 2XS - 5XL
View full details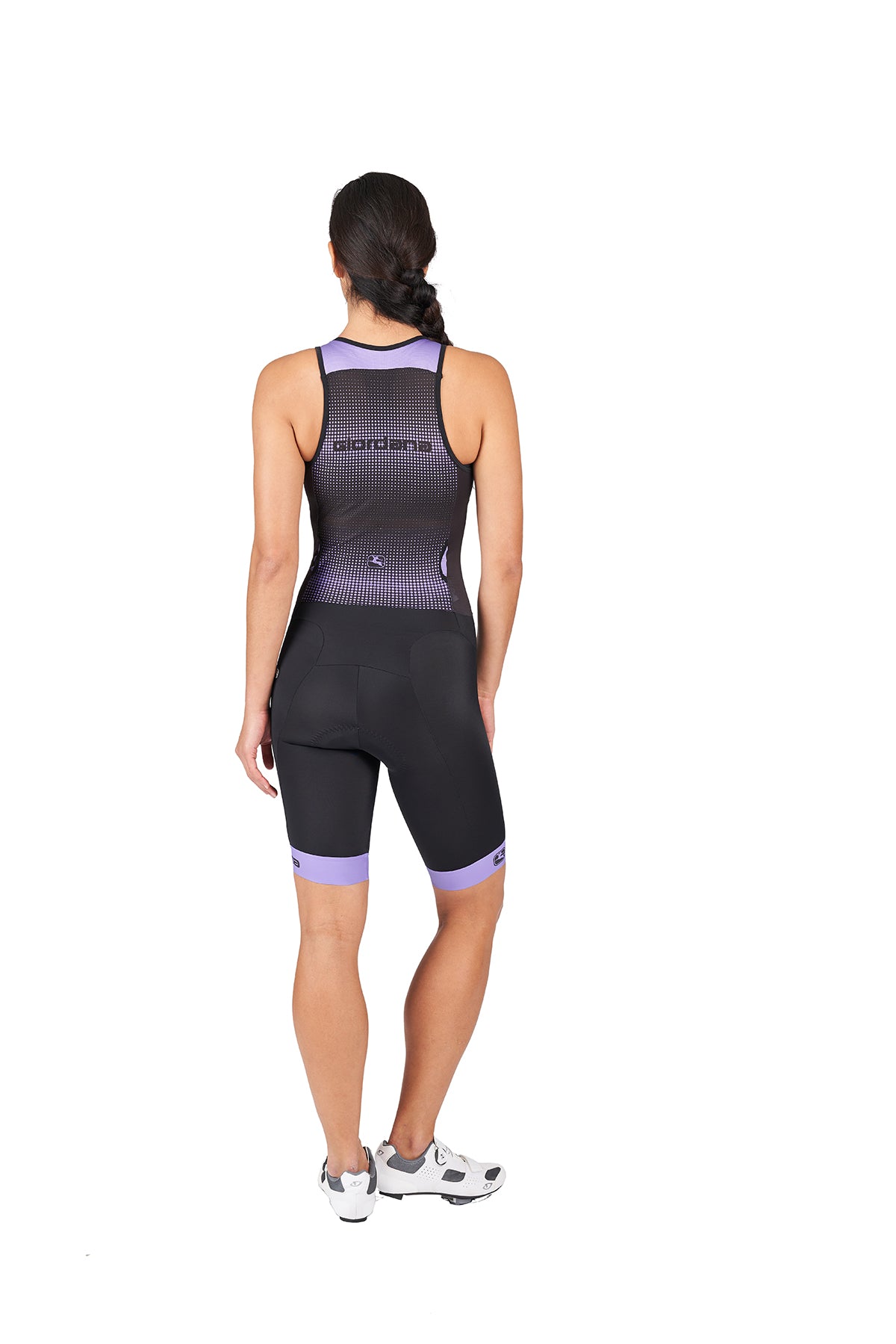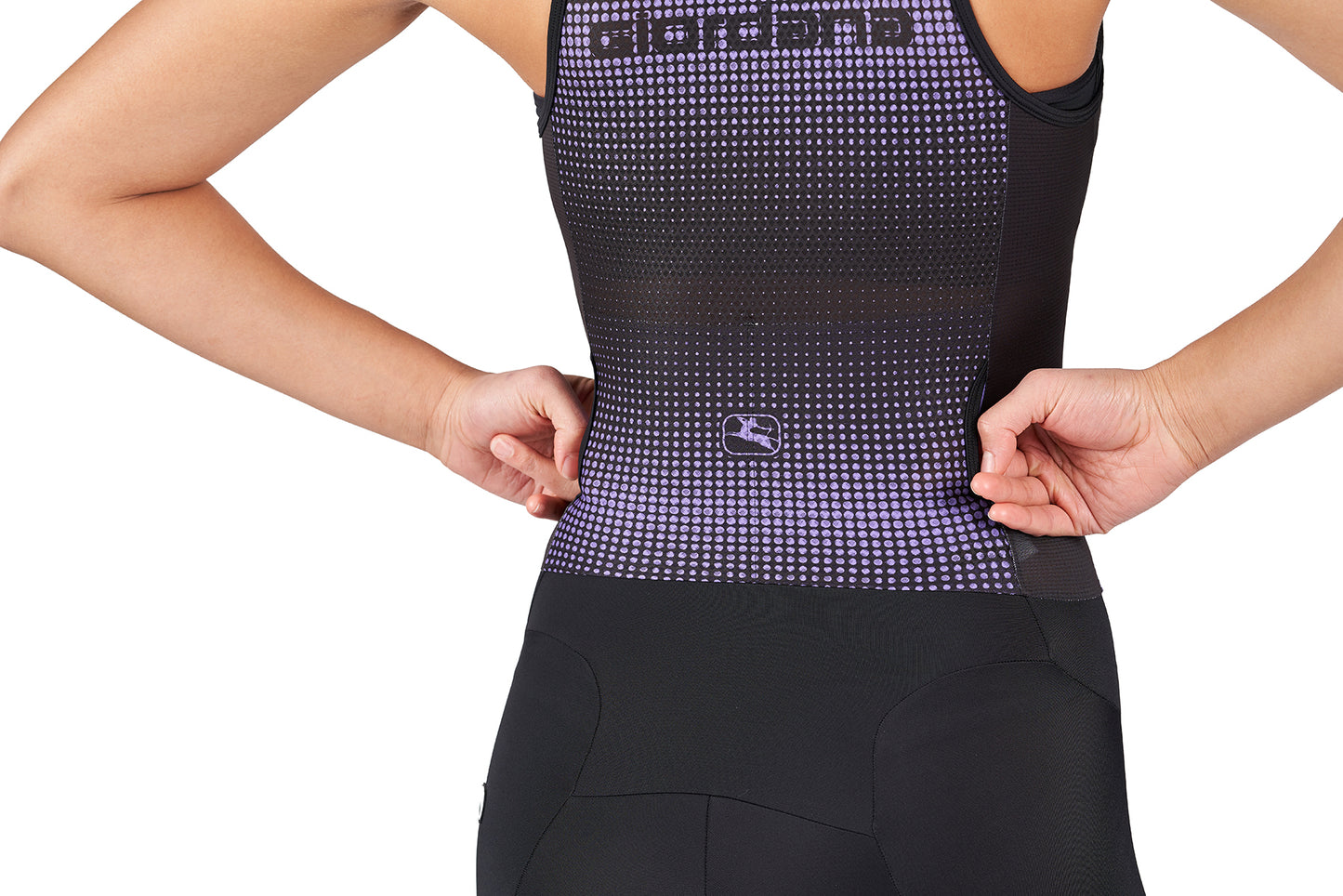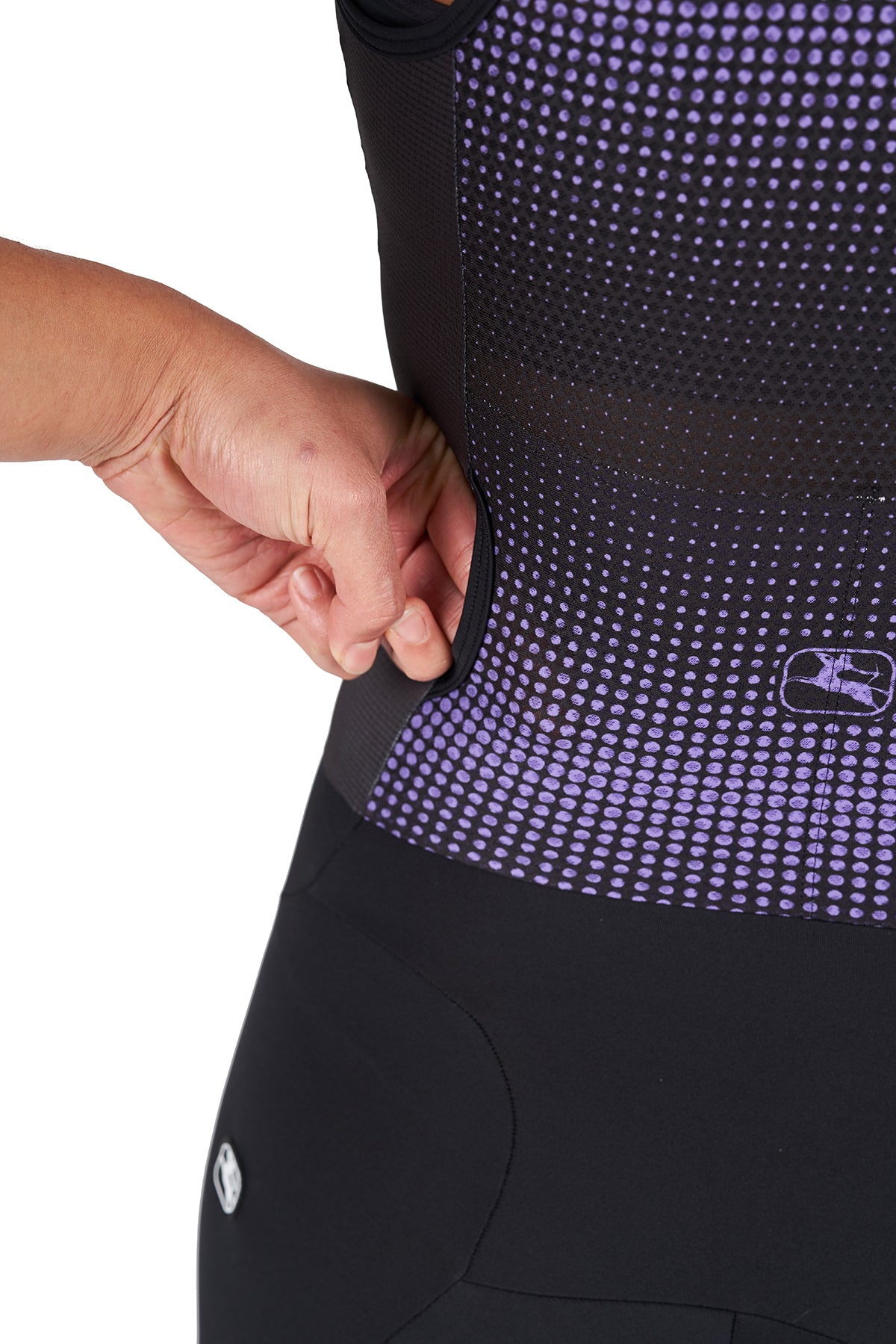 Take the Next Step
Give us a little info about your needs and we'll be in touch within the next business day. Or contact us directly during regular business hours.